Susqudilla High Fiber VCD2 RN MX MXJ
by Charlene Bridgwood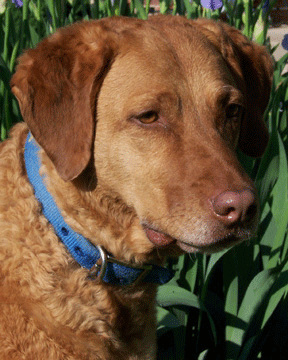 "A tracking we will go, a tracking we will go, hi ho the dairy-o, a tracking we will go" has been my marker for cluing Beannie in when it's time to start seriously thinking about the job at hand. I start this while we are still on the buckle collar approaching our start flag, and then maybe 10 yards out or so switch the line to her tracking harness and stop my horrible attempt at singing.

December 11 started out very cold with about two inches of snow still on the ground. The eight of us tracking that day were all worried about one thing or another ... too cold, too much snow, goose droppings and my greatest fear - blowing by the last glove. Being new at this, I'm told it's possibly some kind of record as I'm happy to say all eight of us passed! The part that really surprised me the most was the fact that the dogs themselves all seemed to use their nose the same; regardless of the fact that the track was pretty visible to us, not one dog just stayed exactly in the track. Beannie (who now I'm proud to say is officially Susqudilla High Fiber VCD2 RN MX MXJ) started out slower than normal, choosing to eat some droppings and snow in the beginning while my heart sank thinking she would not continue on. However, after her tasty refreshment, she then proceeded to almost drag me off my feet at times, finishing the 470-yard track in seven minutes, breaking her 475-yard eight-minute certification track time. She even stopped to pick up the glove!

I'd like to thank not only my wonderful Chessie, but also Teryl Lebkuecher. Without Teryl's help, wisdom and encouragement, this title may not have happened. I can also state for certain, continuing on with thoughts of pursuing a TDX would not be there if it weren't for Teryl. Her wit, her realistic attitude keeps me grounded and, most importantly, having fun.

Use your back button to sniff out a new story