Cadi Gets Her TDX
by Teryl Lebkuecher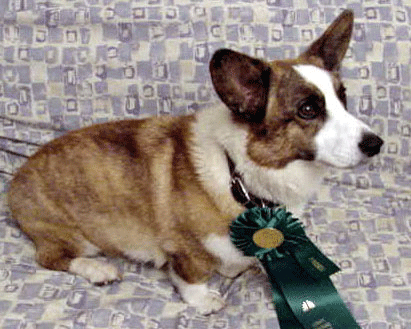 Cadi is my 7-year-old Cardigan Welsh Corgi. Tracking has been fun for her because it is low stress. It is just she and I out in a field, no other dogs or people, and there is a big bowl of food at the glove. This is the perfect situation for my shy girl. Cadi was in two other TDX trials without much luck. Both the trials ended just as quickly as they started. She got lost at the first turn despite not doing this in training. But this is a very common scenario at TDX trials, so I kept plugging away always hoping she would pass a test.

June 6, 2004, Pembroke Welsh Corgi Club of America, Gardner, Mass. Judges Randie Meyer and Arthur Twiss. Bev Olsen and I arrive at the test site. What a beautiful day for a tracking test. It was cool and cloudy with little spurts of rain. Three dogs were entered. I drew Track #2. The first dog went, which was my other dog, but that is another story. Cadi's turn now. We drove part way to the track and the judges took us the rest of the way just so we don't get stuck in the mud. The judges walked with us within sight of the start flag. Yup, they said, "There is your start flag, begin when you are ready and good luck." Off we went. Cadi had a good start, no hesitation. The grass was VERY tall. I thought for sure I would be able to see the track but I couldn't. Cadi makes a turn. I didn't hear a whistle. She was on a mission, moving quickly down the track. I was pleased as I could be because this was further than we had gotten before … who cares what she did now … SHE MADE THE FIRST TURN! Another turn came. Now I was grinning from ear to ear … two turns and no whistle. Cadi stopped and sat - holly Christmas, she was at an article. Well now I truly was the happiest person on the earth … we had an article. I raised that belt so high I think I touched the clouds. I no longer had a job but to hold the leash. Cadi was in full control. Two more turns, no whistle, the longest leg she had ever done running next to a tree line, over ruts filled with water, two more turns. Now I had lost track of all time. Unbelievably Cadi sat again and I picked up a sock and I was thinking, "This is one long track." Change of cover, another turn. "It had to end soon. I think we walked back to NJ." Cadi slowed down and started to wander around like she was lost. Okay, what do I do now? I backed up. Maybe she missed a turn. Cadi kept her nose to the ground but she just couldn't decide where she wanted to go. I was looking for a glove … I'd shoot myself if I missed it. No glove. More wandering from the dog. I turned and looked for the judges. They were just standing there. I encouraged Cadi but she was just lost. The judges come walking up and Cadi was happy to see them and ran toward them. "What the hell is this? This dog is never happy to see anyone, let along strangers." They asked me if I wanted the title. Now I was totally confused. Was this a trick question? Bev never told me about this. How do I answer? Is there a right answer? I stumbled over the words, not even knowing what I was saying. The judges then told me that she had earned the title. "I don't have the glove." "We know." Then the story of the man with two loose dogs who would not move away from the track was told. Cadi had a TDX … was this for real.. it sure was! 990 yards, 3 hours 15 minutes old, 7 turns, 40 minutes of sniffing and Cadi had a TDX.

I owe a great deal to Bev Olsen. Without her help, guidance and patience, Cadi would not have this title. I hope Bev is up for a VST.

Use your back button to sniff out a new story