Chase TD
by Joanne MacKinnon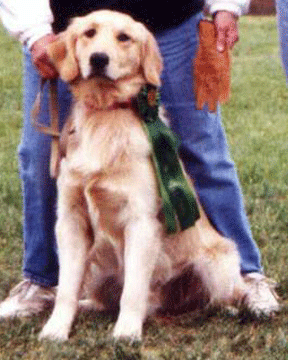 It will probably take me longer to write about Chase's TD than it took him to run his track!

Chase is officially BIT O' SKYE'S CHASE A RAINBOW and he has been glove crazy ever since we started playing with the "glovie" which I think was just after he left the whelping box! You see, tracking was a natural for Chase considering that his grandpa Skye passed his TD at Lenape's first test in '90, his uncle Chip passed his at the Burlington KC test in '95 and his mom Ruffie passed at Lenape's test in '96.

On the day of the test everything seemed to go just right (well almost everything). We drew Track #1, which was in a beautiful field and Chase was really ready to track. We had a very good start for about 10 feet until he noticed the farm equipment off to the side of the track. He cautiously investigated it and then decided it wasn't going to attack him so he got back to tracking. Then just past the second flag Nature called so he went off to the side of the track to answer the call.

Now back to tracking and after a slight line entanglement at the first turn, he never stopped until the glove was in his mouth. What a thrill! Even though I have tracked many dogs, I have never had a dog with such confidence and desire on a track as Chase. I feel very fortunate to have this youngster (thirteen months old) as my tracking partner. I know we will have many more tracking experiences in our future.

We have to thank Cheryl Smagala and her Newfie puppy who showed up every Monday morning faithfully to track for keeping us on track! We also have to thank Lenape Tracking Club for providing the encouragement for everyone to get out and track.

Use your back button to sniff out a new story