Hope's AKC TDX
by Rose Mary Laubach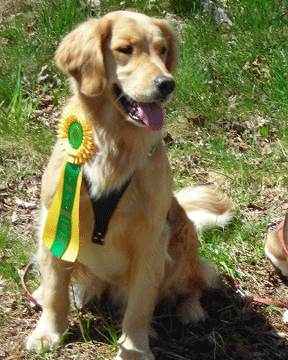 Adversity was certainly a part of this title. After entering 10 tests this spring and not getting in any, we drew Alternate Number 2 for the Tracking Club of Massachusetts TDX test on May 1, 2011.
On the Wednesday before the test Hope was stung in the mouth by "something" - not sure what. She had a drastic swelling episode about her face and muzzle, which improved by Friday but then became a total systemic reaction per the vet. On Thursday, we received an email informing us that someone withdrew and we were now Alternate Number 1, but they were not sure if there would be an alternate track. Decisions, decisions. Did I really want to drive 5 hours not having a definite track? On Friday night, I received another email saying another dog became ill and now I had a definite track. Oh my - would my dog be able to track after all the trauma of the bug episode?
We decided to give it a try and headed north. Sunday morning was a beautiful, cool, sunny day. There were four tracks PLUS the alternate which they were able to do after all. We were the third team to draw and picked Track Number 1!! Hurray - no time to get nervous.
Our track was 886 yards, crossing a paved road with light traffic, and through two sets of woods, one with a 192 yard leg. Hope far exceeded my expectations, putting her nose to the track and doing her job. She nailed each of the articles along the way, and worked steady up to the second set of woods. She worked it and worked it going in and coming out twice. We stopped, I gave her water and a hug, re-scented and told her she could do it. At that point she headed into the woods, came out the other side, made a turn and headed down the leg to the coveted final glove!!! As I was jumping up and down and hugging and kissing her, she just looked at me as if to say, "no problem, Mom, I knew it was here".
To quote the inimitable words of John Etchells, the hardest part to all of this was getting in the test.
I want to thank all those who have contributed to my tracking abilities - Chuck DiIorio, my husband George who crawled out of bed many a morning to lay track when I know he would rather have 40 more winks, and all the Lenape Tracking Club members who got me hooked on this sport. Thanks everyone for your knowledge, dedication, and support.

Use your back button to sniff out a new story