Rock & Roll Tracking Day
by Rose Mary Laubach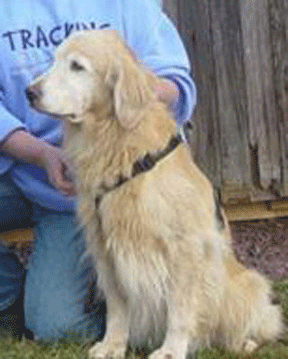 Morning came early. It was test day! It was hard to sleep the night before. My all-supportive husband George, Meg and I were up at 3:30 a.m. and soon on the road, on our adventure to Lackawanna, PA. The fog was so thick that we could barely see the road. I thought daylight would never come, but it did and we found the Lackawanna Kennel Club site. We were greeted by rolling hills, beautiful farmland, aroma of fresh brewed coffee and some of the friendliest folks you would want to meet.
After introductions and the usual story sharing along with a few chuckles, we started the draw for tracks. Since it was the weekend before Thanksgiving, we drew decorated turkey magnets. Megan and I picked track #4 of six. Off we went to watch the first two teams. The problem was that the fog had not lifted. All we saw was the start flag as each team began. Then we waited to hear the cheer as each team found that coveted glove. Soon it was our turn. The fog lifted but the drizzle continued. I needed to drive to our track, but it was not to be uncomplicated. My rear wheels became mired in the mud! Well, those nice Pennsylvania folks came to my rescue. As they pushed my van, my wheels sprayed mud. As I drove away, I glanced in my rearview mirror. Oh my, they were wiping the mud from their faces and laughing!
At our track site, Meg saw me reach for her tracking harness and she began spinning in her crate. This was a good sign. Once "dressed" she ran to the start flag and began our journey. I had informed the judges and spectators earlier that Megan has a habit of "rolling" on her track. This "roll" could go on for as long as a minute or two but only once on the track. What did I know?!? So off we went and lo and behold, Meg rolls in the drenched grass within 30 feet. She continued on and melted into a left turn and "rolls" on Leg #2. We continue dead on the track and Meg makes a right turn and "rolls" on the third leg! I began to hear giggles from the judges behind me. We make another right turn and continue on a very long fourth leg and Meg "rolls" again. Now there was outright laughter behind us! Meg blends into an open right turn and onto Leg #5 that went up a steady incline. She must have felt my adrenaline through the line. Our goal was so close. Meg did not roll but ran as she tracked her way up the hill to the glove! She went down on the glove then "rolled" on it. As I waved the glove, the cheers from the judges was mixed with laughter. My very wet dog and I did it. How sweet it was! Meg's total tracking time was eight minutes: three minutes dedicated to "rolling."

Use your back button to sniff out a new story