13 Year old Murphy steps up to the TDX plate
at the 2007 ASCA Nationals!
by Lisa Pattison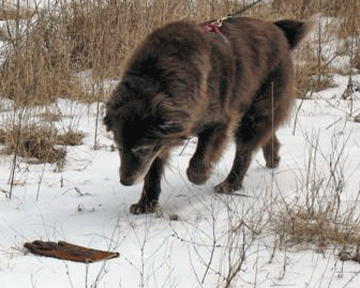 In our house the daily expression is "Murph's on a mission!" The 13 year old has taken on the job of worry and concern over the everyday to heart and stands at the ready. He is checking the house traffic, roaming with the free-range fowl and screening deliveries by scent detection. All the comings and goings are subject to inspection by the nose of the 38lb workaholic. Pilates, biking and swimming are all parts of his cross-training program to keep the high drive gramps feeling useful.

I was 30 years old when I brought home my first dog. Murphy was to be a companion for work and his breed made him a perfect match. He was busy, brainy, determined, self-reliant, unyielding, strong, tenacious, and so…..soon I was immersed in behavior modification and changing my job to compete on weekends. Shaping behavior in this guy has pretty much been the hobby that has consumed my life. It's been over a decade and I feel like I have gleaned a doctorate's worth of knowledge through pure immersion into psychology and health. The little red dog has benefited from raw feeding, homeopathy, holistic medicine, water dog work, carting, drafting, skijoring, obedience, herding (ducks and sheep), Frisbee, backpacking, therapy dog work, rally, canine freestyle, agility and tracking.

Tracking I believe, was the second organized dog activity we fell into. The Tracking Experience Day was close to the house and we jumped right in. Initially, Murphy learned to track with food drops, then Scent in a Bottle and eventually with the help of probably 100 blind tracks, we earned our first tracking title. Clearly, the hold up was the handler. Murphy certified three times before Lisa could pass the test. Two TD's and Two TDX's later, we now track in large shopping strip malls. Video recording his tracking is much easier now in these surroundings and helps me interpret Murph's problem solving tactics as he takes on the parking lot sweeping machine. Consequently in this environment we experience more missing articles prompting him to scratch at the pavement for credit. You can see some of murphs TDX training video at http://www.gullwinglabradors.com/LisaP/ .

Murphy entered Variable Surface tracking tests and dreamed of making the draw. Actually, Murphy doesn't dream about anything. He does it! He feels if the five senses cannot detect it, then what use is it? He absorbs everything, sorts through it and files away that which may be used later. This discernment defines his tracking prowess. Since the early days of our relationship, Murph's spirit also included worrying, stubbornness, aggression, impatience and impulsiveness. I am proud to say that all of these traits contributed to this senior's memorable TDX pass at the 2007 Nationals.

The morning of that TDX I remember it was nice, cool and damp when the TD's started to run. As the sun rose higher I started to fret about keeping the old-timer cool and relaxed. I had both fans pushing air over him and the car as cold as I could keep it. As the morning wore on I stretched him and put him through his prescribed physical therapy exercises. I reflected on the fact that he had not rested well overnight in the bus. Crankily, he pulled his leg out of my hands reminding me he could use some more walking. I looked around, there was time and a place so I lifted him out and placed him gingerly on the ground. Determined, he started bunny hopping towards the assigned area. A beautiful piece of pasture set aside for tracking participants. I jogged him gently around the fence line and he responded by darting through the plush cover with his nose. A few minutes later there was a call to load up. We bustled back to the car and I boosted him in gently, one more TD to run and then us.

In the final minutes before harnessing him I attempted to envision his repertoire of tracking postures. Most of these recollections included snow. We did over 30 tracks last winter in the snow enabling me to "see" as he scented. Tracking in the snow provided me with a "mental snapshot" of Murph's body language specific to the primary track, cross tracks, prey. Yellow snow, melting snow and snow blowing. Murph's inspection of these tangible occurrences evolved as the catalyst to my enlightenment of tracking in general. I became more patient and realized he couldn't be too critical of the track. The elder's perfectionist drive comes from his innermost being. Yes, he comes across as picky and uptight but the reason M can get so uptight is because this is a never-ending job. There is always work to be done and previously so much of his investigation on the track was not fully appreciated by me. I had been in a hurry to get to the "track". When the snow revealed all the tasks at hand I began to fully comprehend tracking is not just about reading your dog on the track. For Murph's interpretation, the whole world is a track. I learned to include what Murphy registered on the entire journey within the "track".

Murph was the first to notice the TDX judge approaching to escort us to the start. Hurriedly, he bowed and stretched while yawning audibly before pawing at the crate latch. I waited for him to sit before lifting him out. This gratuitous obedience marked my last illusion of control over this crafty working dog and his hidden agenda for our TDX adventure.

At the start flag, I practiced my patience when after a cursory inspection of the sock article, Murphy sifted through all directions before shuffling down the incline. Silently coaching myself to commit his current tracking posture to memory, I followed him, trying to catch glimpses of his profile to confirm his purpose. While he worked the scent off the cliff, Murph toiled systematically, perhaps even diagnostically covering and retracing the track sections at length. Head down, intent on his task, occasionally trotting circles and once even running past me to beeline the track another direction, these gestures were all part of the judicious master's arsenal. Entrusted with his line, I concentrated on his signals. This was his calling and he plugged on tirelessly. Each article on his track was a wonderful surprise to me and his indication was clear. I cheered and showed him the booty we had accumulated. He then humored me by drinking a little. I re-scented him but he was always eager to leave me and return to the end of the line. Ancient knees quickly paddling, the old dog's pure energy and talent for logical analysis propelled him around the track's traps and challenges.

Heartfelt hours later M dipped his head and held his old gray muzzle to the field's surface. Motionless he stood in a nose target posture. Bewildered, I asked him aloud "what is that suppose to mean?" Praying it was his final article and he had been too tired to retrieve, I dragged myself up to where he had planted himself. No article! The now grumpy old dog scrutinized the judges, gallery and me suspiciously before delving with renewed effort back into his work. Murphy spun us around and in the next twenty minutes he researched two more routes that took us back to the same mystic spot where he displayed his new tracking stance and disparaging expression. Usually, I don't take his criticism to heart but at this moment I couldn't help sense I was not supporting his "get the job done or else" work ethic. Astonishingly, at that moment in time the judges divulged that the last article was missing and that this vintage tracker had indicated the invisible final drop 3 times! Wow! With the gallery's recognition of his success, Murphy quickly mended his mood to revel in his triumph.

Days after the event, I discovered Murphy's horoscope which brought a smile to my lips. It read, "highly meticulous and if anyone could find a needle in a haystack, its you." I thank Mr. M today for being humble enough to do what needs to be done and for taking the time to fuss over the small details, which enhance the quality of our time together in so many practical ways. I continue to track with my senior Australian Shepherds who still want to work. While their vision and hearing is diminishing their noses are unbelievable. Being Aussies, they love to travel and be seen. It will be fun to play more scenting games and take their strengthened capability as far as possible. Working scent on land and in water, I'll shoot for a variety of tasks to reward them in their golden years. When tracking with my dogs, I enjoy boosting my awareness and focusing on what they explore. Through the years these skills have rewarded me emotionally and competitively. The Tracking Venue has the power to foster such "listening" talent in handlers while creating an arena for "retired" dogs. I would encourage any team to experience this spirit of tracking.

Use your back button to sniff out a new story