Murphy's TD
by Lisa Pattison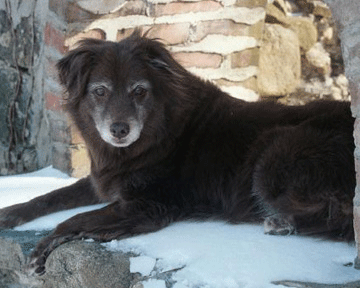 Sunday, April 8 at the Hudson Valley Tracking Club's Mohonk fields.

Murphy and I arrived at 6 a.m. in thunder and lightning. I put Murphy in the crate and he was vibrating the whole car with his little red furry body.

Luckily (although I didn't think so at the time), our track was #8 and started at 11 a.m. He recovered and tracked wonderfully. The best I have ever seen him to. His short stubby tail flagged gently "conductor style."

The first leg was as short as allowed, and I thought he was messing with me when he wanted to turn so soon after the second flag. I had no choice but to follow him.

He was pulling hard as he danced merrily around me, splashing his belly in the standing water. The wetter he became, the happier and more excited he became. He ran circles at turn #2 and again at #4 before bolting quickly down the track. At the end he skipped dutifully back to me with the glove.

He frisked me first for the sardines and then the judges. (Grin) He was relieved to find the fish at the car.

At the awards Salle Richards mentioned my journey of efforts to track with Murph's heart murmur and loose lead style.

What a great day it was to finally achieve what had eluded me so long!

Use your back button to sniff out a new story