Gramma and Me
by Ringo … also known as Ch Lar-Lill's Revolution, CD, TD, CGC, HIC, TT, TDI, CS, VCX, BPX, RN
(as told to Lillian Puchalski)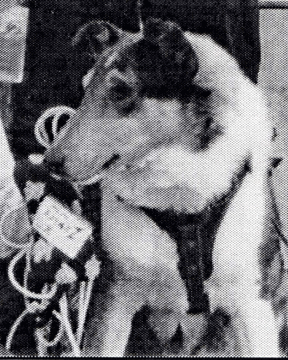 Gramma woke me up one morning and told me, "It is the big day of the tracking test."
She had my bag all packed with my tracking harness, water bucket and of course some water. Of course she had on those big old boots of hers. That meant we were headed out to the field because she also had on that ugly orange hat. Off we went.
It was just about time to draw for the tracks when we got there. She drew track #5. The waiting around while other dogs ran their tracks made Gramma nervous. She kept saying to herself, "Shut your month and trust your dog."
Finally it was our turn. We got up to the field and I thought to myself, "Why are those children playing in that yard?" Gramma put my harness on me and we walked up to the starting flag. I put my nose down and started to track. I heard a man running up the road hollering at the children not to come and play with me. Then as I made the first turn, I looked back and there was Gramma flat on her face. One of her feet got caught in my lead. I never knew Gramma could move so fast. I kept on tracking and about 20 yards further along there was Gramma fighting with a big stick that got tangled in my lead. I never knew a brand new lead could be such a problem.
After that, things went along pretty well. I found a few munchies in the field. Boy, it was a good thing that Gramma didn't know what I was eating. The next run was a little tricky. Gramma stopped and gave me more lead so I could figure this out. There it was and off I went, along with Gramma, still on her feet. Boy, as I went along I was thinking that it sure was a long way. All of a sudden I was going in another direction. My nose was to the ground and I dared not look back and see what Gramma was doing. Maybe it was better I didn't know. All of a sudden I hit pay dirt. There was the glove she had wanted me to find. So I swung my body sideways as I was taught, nuzzled the glove, and looked up at Gramma. She was coming toward me asking what I had found. Boy, was she happy to see me and the glove. I think she started to cry when she picked up the glove. All of a sudden the people who had been following us started to clap and yell "congratulations." They came up and hugged me and Gramma. I guess we did all right since everyone seemed happy and they were telling me what a good boy I was.

Use your back button to sniff out a new story