Steeler Earns Himself aTD
by Janet Kelly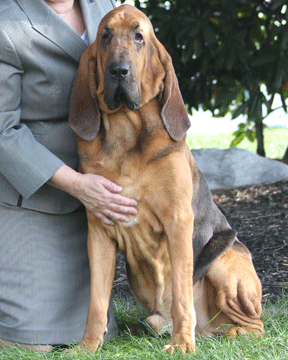 The Host:  Lenape Tracking Club of Central NJ
The Place:  Tyler State Park, Newtown, PA
The Date:  Sunday, October 4, 2015
The Conditions:  Overcast, moderate to high winds, temperature in the 50's, ground damp, grass tall
The Judges:  Susan Boyd and Robin Scott
The Tracklayer:  Nancy Grove
The Photographer:  Jim Bunderla
The Bloodhound:  GCH CH Wynbrook Apogee Ironclad Oath MTX (Mantrailer Excellent)
The Handler:  Janet Kelly
Steeler had been tracking sporadically for about two years; we finally became SERIOUS about training. He earned his certification in June 2015 under Tracking Judge Ken Barna, in Ohio. This LTCCNJ trial was our first-ever trial. He was first in catalog order, and we drew Track Number 7. When it was our turn, we had to wait for a gentleman and his two Cane Corsos to return to their vehicle from our field. Finally, we approached the start. Steeler was scented, passed the directional flag, with the track parallel to the road, and remained on the first leg. After a bit, he circled to the right, heading toward the road. Knowing that scent had likely been pulled in that direction by traffic, I let him circle behind and around me—then felt the hard pull to the left, and we entered the first turn/second leg. As he approached what would be the second turn, he wavered a bit, then "bulldozed" left into the third leg. Steeler was more confident at the third and fourth turns, which were both right turns. He moved fairly methodically for the large, "full speed ahead" hound that he is, and on the fifth leg, finally made a nice indication and remained nose down at the glove—success! I am so proud of my boy, who has made the transition from mantrailing bloodhound to tracker seem much easier than it normally is!
This fourth "title in harness" earned Steeler a spot in the American Bloodhound Club Hall of Fame as a Working Dog of Merit.
Thank you to the Club for putting on such a nice event; to the judges and tracklayers, who were upbeat and kind despite the weather; to the best tracklayer ever, Nancy Grove; and to Jim Bunderla for his fine photography. And thank you to Nancy and Jim and Martha Windisch of LTC for their help with getting my boy started, and to my friends in New England--John and Gail Kuncho and Jan Rothwell, and to my "local" friends—Linda Porch and Vicki Kobihz--for their willingness to spend much time and energy helping us pursue our goals. We are "hooked" and plan to continue training and tracking!

Use your back button to sniff out a new story