Jimanie's Golden Touch, TD
by Peg Forte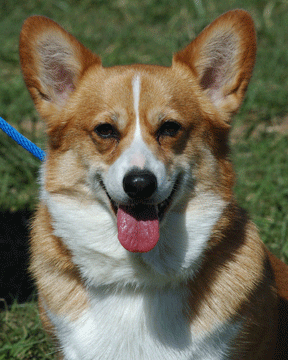 Tracking with a puppy is the best there is...Torrie is the second puppy that I had the opportunity to do tracking as their first training activity. And I'm convinced that is the greatest time to do tracking. Puppies have no inhibitions, no obedience formality to hinder their progress.
At Lenape Tracking Club's training session in June, Lisa Pattison laid a first track for Torrie. She had no idea of what we wanted. Mimi Ruch and I left the Christie Hoffman Farm Park and drove to Mountain Farm Park to continue the lesson. By track three the light bulb went on in Torrie's head.
I kid you not, the rest of Torrie's training went very smoothly and quickly. After a couple of more outings in June, the weather became too hot and the ground too dry, so we waited until mid-August to continue her training in the cooler evenings. Most of her tracks I laid myself, but the opportunity presented itself she got to track others and she worked with the same dogged determination.
When she had a chance to be certified in Lenape's workshop, she did some puppy things and got distracted. This is the only downside to tracking with a puppy, sometimes they act like one.
When I arrived at the Burlington Agility Trial on 10/13/02 I saw that Tracking Judge, Mike Clemens was on the grounds. The park where this trial is held is huge with lots of open areas. So I asked Mike if he would lay a track to see if Torrie was ready to be certified. He said after he ran his dog in the trial he would be happy to do so.
He did so and Torrie worked the track with ease. It was very reassuring to me to have Mike behind me making comments like, "Beautiful job," as she took the new direction at each corner. He had certification slips in his van and we left the trial with a certified puppy.
With the entry sent in to Lenape I sweated out whether or not we would make the draw. Torrie was the third dog drawn for the test.
On the morning of the test the conditions were about as perfect as they can get. Cool, there had been some rain on Friday, there wasn't a lot of wind....there was no turning back now. We drew track 3, which Peter Heide, Lenape's land procurer, told me was the Rainbow Hill field.
This was a relief because I was worried we would draw the field at DuFosse next to the pasture with sheep. (Torrie had passed her at a Herding Instinct Test the day before and really enjoyed working the sheep).
When our turn came and we walked toward the start flag, the judges wished us the traditional "Good Luck," and Mike added, "My reputation is on the line dog."
Other than a slight diversion to check out a pile of horse droppings between the start flags, there was never any doubt that Torrie was on the track. She is a steady tracker, wasting little time to decide which way to go at a turn. My job is just to follow her-she knows what she is doing. Along the track she did single out two separate thistle plants that needed a thorough sniff.
The wet conditions of the grass held the tracklayers path, but I was very conscious that the judges could also see this and they would be quick to call any guiding on my part. It was a real confidence booster to be able to see the path as she correctly made each corner.
After a long leg, Torrie made a turn to the right heading towards the edge of the field. Since she isn't a real strong indicator, I was watching very carefully. She dipped her head at the glove. I walked up on the line and picked it up, holding it over my head. I was very relieved when Mike walked up behind me and said, "Congratulations." To which I responded, "It wasn't much of an indication." It was enough," he replied.
Those who have known me for very long know that tracking is the favorite thing I do with my dogs. And I do like to be able to start a puppy as young as possible. Torrie has been the easiest dog to train and to read that I have ever worked.
While I laid most of her tracks myself, I want to thank Lisa Pattison who laid her very first track - the one where she had no clue - to Mimi Ruch, Jean Cross, Alice Crans and Joanne MacKinnon.
Joanne and I have spent many good times tracking several dogs over the years. It was great that she was able to take time out of their packing to be there on this very special day.
Also a special thanks to Teryl Lebkuecher who laid Torrie's track in the test. This was her first time to lay a track in a test. And to John Etchells, Chief Tracklayer, Peter Heide, who arranged for the fields, Mollie Heide for her cheerful hospitality and the rest of Lenape members. A very special thanks to Mimi Ruch for the beautiful watercolor of Torrie's track.
An extra special thanks to Stephanie Hedgepath for giving me the opportunity to have such a wonderful Jimanie puppy. She is a delight to work and a constant pleasure to have in my life.

Use your back button to sniff out a new story