---
THE JOHN MIKTUS AWARD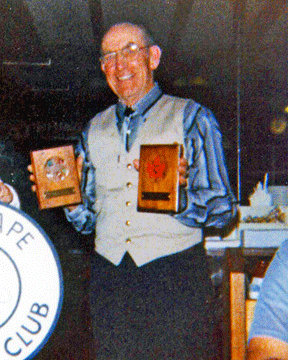 Although Lenape Tracking Club honors all its members who earn tracking titles, it also has a special award - the John Miktus Award. This plaque on a stone-like base depicts a German Shepherd tracking and will be created whenever any member meets the criteria.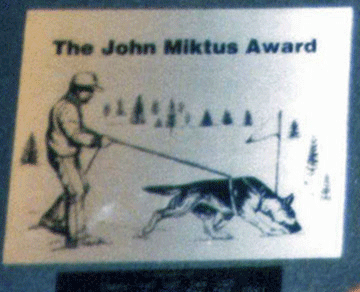 This award is presented at the annual dinner to any member of the Lenape Tracking Club of Central New Jersey who earns three different tracking titles with the same dog while maintaining his or her membership. The handler and dog must earn an AKC Tracking Dog title, an additional Tracking title with any other registry (domestic or foreign) and they must earn one Tracking Dog Excellent title with any dog registry (domestic or foreign).
This award is given in memory of John Miktus, a member of the club from its first year. John earned seven tracking titles with his two German Shepherd dogs, Ebony and Gypsy. John and Ebony were introduced to tracking at the LTC's first match held in the fall of 1975.
Ebony earned a Canadian TD on 4/17/77, an American TD on 5/8/77 and a Canadian TDX on 10/16/77. (During Ebony's working lifetime the AKC did not offer the TDX title).
Gypsy earned her Canadian TD on 9/23/78, her American TD on the following day, 9/24/78. On 5/3/81 she earned her American TDX and on 10/17/82 she added a Canadian TDX to her titles.
Both the dogs had their American UD titles. Ebony also had a Canadian UD. Gypsy also earned her Canadian CDX.
Congratulations to the Lenape Members who have been awarded the plaque to date
Murphy
Lisa Pattison
2007

Lacey
Lisa Pattison
2008

Toro
Gina DeAlmeida
2009

Cruiser
Chuck Shultz
2010

Grady
Cheryl Matthews
2010

Hope
RoseMary Laubach
2011
---
© 2016 Lenape Tracking Club of Central New Jersey - all rights reserved